BSc (Hons) in
International Business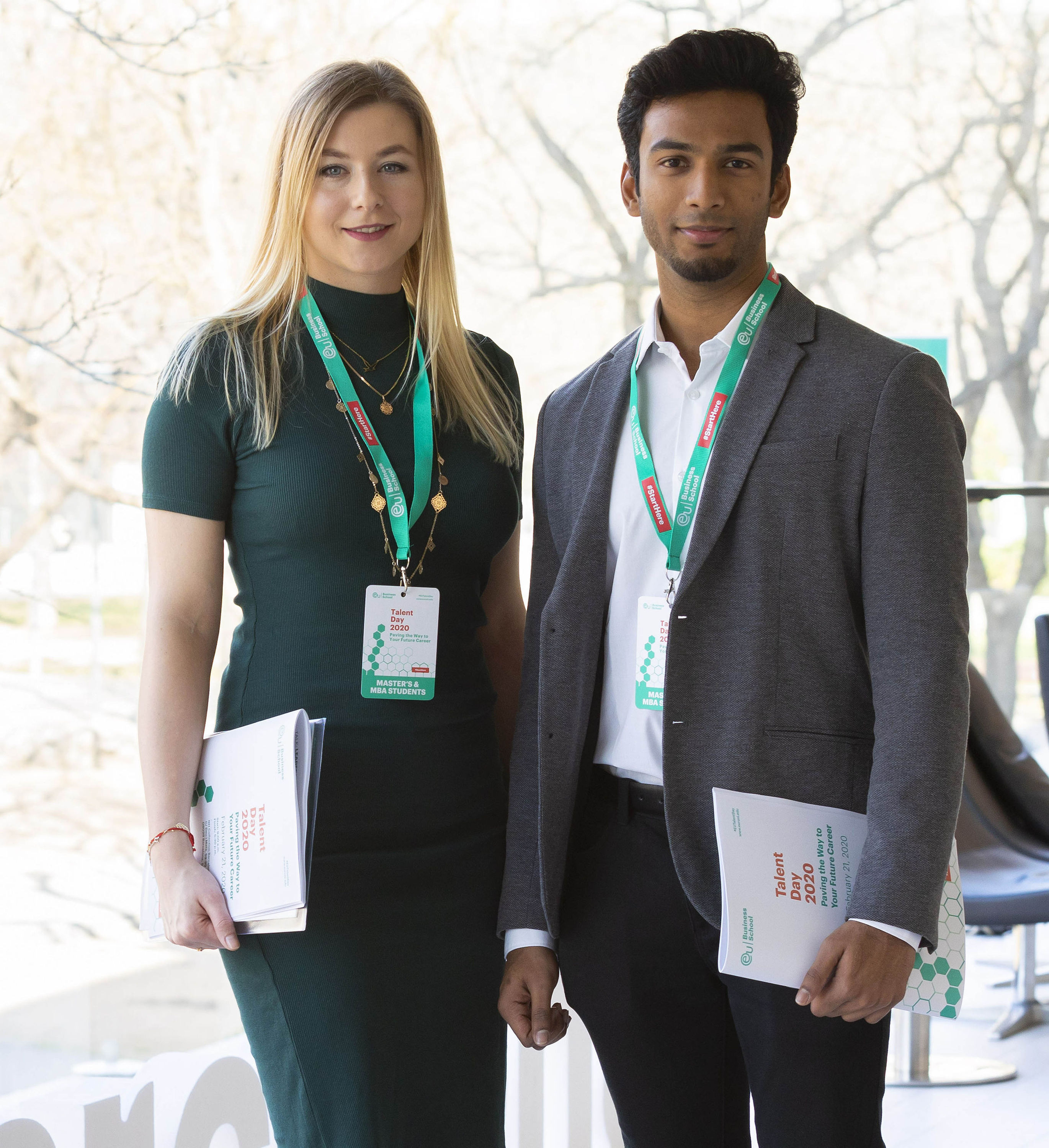 Upon the successful completion of any of EU's bachelor's degrees, graduates have a wide array of career options and business opportunities available to them. In response to the growing demand for flexible and entrepreneurial business professionals, EU's programs are designed to foster the skills required for a successful career in the international business arena.
EU's graduates possess an international mindset, multicultural awareness and are innovative thinkers. This makes them ideal candidates for positions at large, multinational companies and dynamic, disruptive entrepreneurs ready to start their own businesses.
Career Options
The BSc (Hons) in International Business has been designed to provide students with comprehensive knowledge of the international business world as well as skills in one of seven specializations. Graduates of this bachelor's degree may be interested in the following careers.
Brand Manager
Brand managers are in charge of the marketing actions of a brand whose products may stretch across several markets. Brand managers will plan, create and implement strategic marketing campaigns for their product lines. Their duties include market research, promotional and advertising campaigns, budgeting, tracking sales and market share, among others. These professionals work within the marketing department reporting to a marketing director.
A brand manager will have analytical skills for market and competitor tracking; creativity to produce original ideas; and good written and verbal communication skills for presenting and reporting.
Business Development Manager
Business development managers will create and implement business plans to grow a company. They will look for opportunities in current markets by expanding to new sectors or will look for opportunities overseas. To succeed in international markets, knowledge of local culture, language, government regulations, competitors and markets are required. They will look to expand the current client portfolio and make new contacts. Competitor and market information must be collected and analyzed by professionals within this area.
Analytical, communication, research and numerical skills are essential for the position of business development manager.
Purchasing Manager
Purchasing managers are responsible for creating and executing purchasing strategies within an organization. They will source and select vendors, negotiate prices and contractual terms and conditions, make orders, track deliveries and monitor and forecast future demand levels, among others. Building trust with suppliers and clearly communicating and detailing technical product information is key for success.
The skills required to become a purchasing manager include negotiation, data collection and analysis as well as leadership.
Service Manager
Service managers manage an organization's service department which is responsible for customer service relations and repairs. Their aim is to provide an excellent service to clients to establish a long-lasting sales relationship. In charge of teams, a service manager will ensure that departmental and sales goals are met and that their team members possess the necessary product and service knowledge to carry out their tasks effectively. They will also need to know industry regulations, constraints and laws for compliance. A service manager will also assist with administrative tasks and prepare reports on the levels of customer service achieved and pinpoint areas for improvement
To succeed as a service manager, candidates should have strong written and verbal communication skills, be a problem-solver and have leadership skills.
Areas of Work
The BSc (Hons) in International Business provides students with a global understanding of international business as well as advanced knowledge in seven specialized areas. Graduates of this bachelor's degree may be interested in working in the following professional areas.
Financial services comprise organizations that manage money and offer financing opportunities to individuals and entities. They offer a wide variety of money and investment related services. Examples are banks, investment banks, insurers, stock brokerages and credit card companies.
Customer services take care of a customer's needs through quality assistance before, during and after a purchase in order to generate customer satisfaction and loyalty. Outstanding customer service is considered key to building competitive advantage. Prompt response, politeness, professionalism and personalization are considered essential features of this discipline.
Project management is the application of methodologies and processes to ensure that a project meets its objectives within a specified timeframe and with a pre-determined budget and resources. As well as defining objectives and converting them into achievable deliverables, project management involves planning, people management, problem-solving and reporting.
The field of public relations helps an organization or individual build and maintain a positive reputation with a target audience. Public relations professionals aim to influence, engage and build relationships with key stakeholders using topics of public interest, news and events, among others. They monitor public opinion for public understanding and acceptance. This sector is key in crisis management for maintaining a positive reputation.
Top Programs to Pursue After Your Bachelor's Degree