BA - Bachelor of Arts in
Communication & Public Relations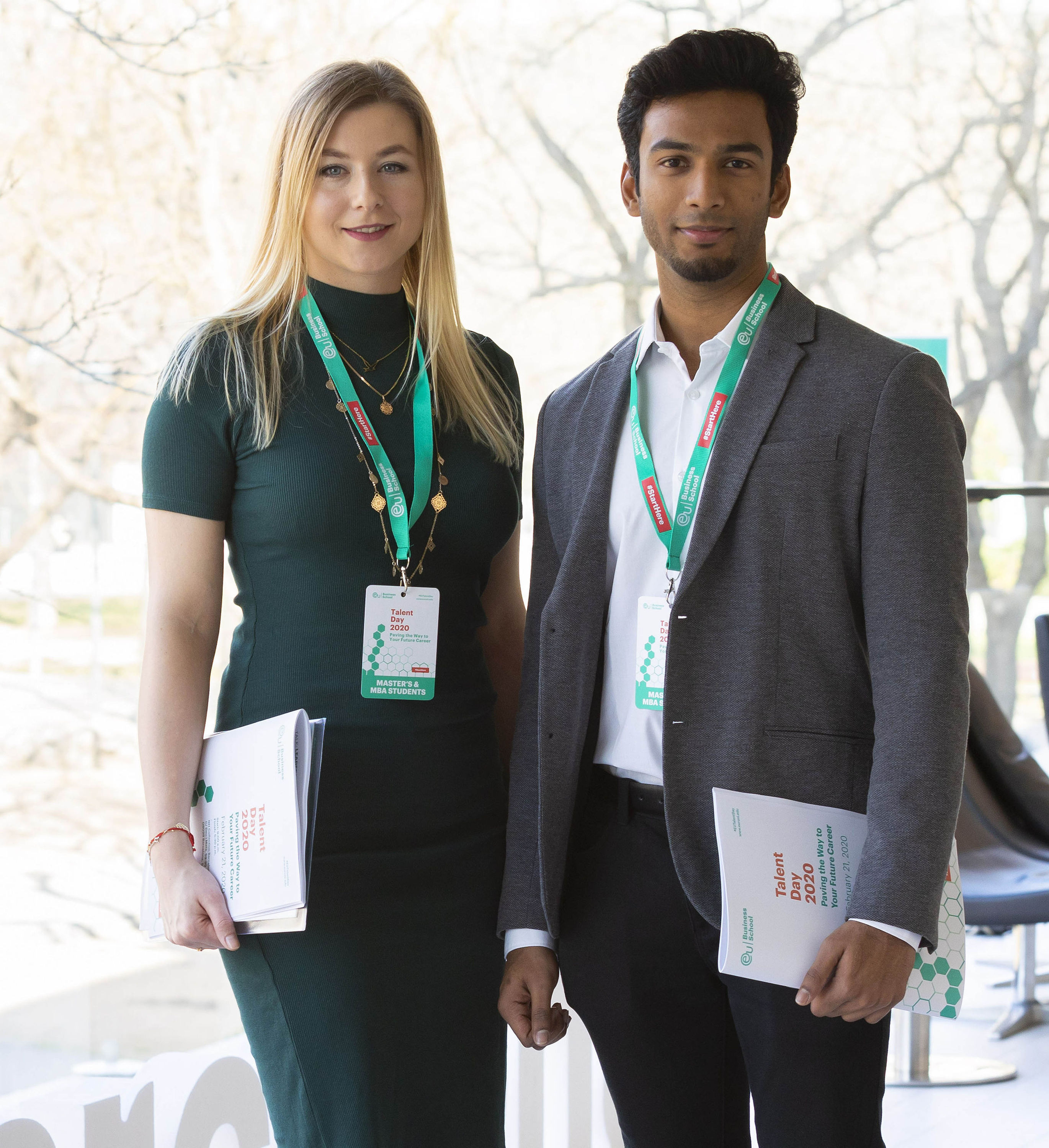 Upon the successful completion of any of EU's bachelor's degrees, graduates have a wide array of career options and business opportunities available to them. In response to the growing demand for flexible and entrepreneurial business professionals, EU's programs are designed to foster the skills required for a successful career in the international business arena.
EU's graduates possess an international mindset, multicultural awareness and are innovative thinkers. This makes them ideal candidates for positions at large, multinational companies and dynamic, disruptive entrepreneurs ready to start their own businesses.
Career Options
The Bachelor of Arts in Communication & Public Relations degree provides students with fundamental knowledge in all major business areas as well as specialist skills in communication and public relations. These include social media and consumer behavior. Students who successfully complete this degree may be interested in the following job positions:
Communications Manager
Communication managers are responsible for creating, distributing and monitoring messages about the organization to its stakeholders. They are in charge of creating an organization's communication's materials including annual reports and press releases, establishing relationships with stakeholders and ensuring that organizational messages are uniform and create a positive image. A communication manager will also play a key role in crisis management and will monitor messages published by third-parties for reputation management.
To succeed in this profession, a communication manager must have strong writing, editing and proofreading as well as presentation skills. They must also present and communicate with confidence.
Social Media Manager
Social media managers regularly post content on an organization's social media channels about its activities. As well as sharing content, engaging with followers, promoting and tracking third-party mentions, social media managers monitor results for optimization. They interact directly with the target audience and coordinate with other departments to keep abreast of an organization's activities and also to provide feedback on actions. A social media manager may work within a communication or marketing department.
To succeed as a social media manager, candidates need to be digitally savvy and have good copywriting and analytical skills. Graphic design and audio-visual knowledge are preferable.
Technical Writer
Translating complex text into a more reader-friendly version is the responsibility of technical writers. They also conduct research and interviews and ensure that writing projects are handed in on time. Technical writers also write business proposals, update a company's website and review important corporate documents. They often work as freelancers or are contracted by engineering, medical and research organizations, among others.
Skills in the field of technical writing include good writing, editing and proofreading skills as well as the capacity to analyze and understand complex data.
Campaign Manager
Campaign managers help create and run an organization's integrated marketing campaigns to ensure that they accomplish organizational goals and generate sales. These professionals usually work with third-party agents to ensure the correct preparation and implementation of a campaign. Their tasks are wide ranging as they coordinate and oversee all aspects of a campaign. Working within a pre-defined budget, they will report on campaign effectiveness in terms of customer reach and sales impact, among others. Campaigns will stretch across different marketing areas including digital, emailing, TV, radio and print, among others for maximum impact.
Strong organizational and management skills are needed by a campaign manager as well as knowledge of finance and high creativity.
Areas of Work
The Bachelor of Arts in Communication & Public Relations degree provides students with in-depth knowledge of major business disciplines as well as a specialist skillset in communications and public relations. Successful graduates of this degree may work in several professional fields, some of which we list below:
Advertisements, copywriting and multimedia, among others, fall under the expertise of advertising. Working from briefings prepared by clients, advertisers are in charge of developing campaigns for products, brands, and organizations to impact target audiences and help organization achieve their objectives. Advertising professionals often undertake market research to test campaigns for understanding, brand coherence and acceptance.
The field of public relations helps an organization or individual build and maintain a positive reputation with its audience. Public relations professionals aim to influence, engage and build relationships with key stakeholders using topics of public interest, news and events, among others. They monitor public opinion for public understanding and acceptance. This sector is key in crisis management for maintaining a positive reputation.
The aim of lobbying is to influence government and organizational decision- and policy-making for the benefit of an organization. Lobbyists typically act in representation of public and corporate entities, not-for-profit organizations and trade associations. Their tasks may include face-to-face interviews with regulators and the creation of campaigns to generate public awareness and support for an initiative. Public speaking and excellent written skills are needed in this professional field.
Internal communication transmits news and messages to all hierarchical levels of an organization in order to build company culture and a feeling of ownership among employees. Platforms for internal communication include the intranet, magazines, TV channels and memorandums, among others. Internal communications professionals need to build good relations within the organization and pinpoint opinion leaders to help extend their message.
Top Programs To Pursue After Your Bachelor's Degree