Master of Business
Administration (MBA)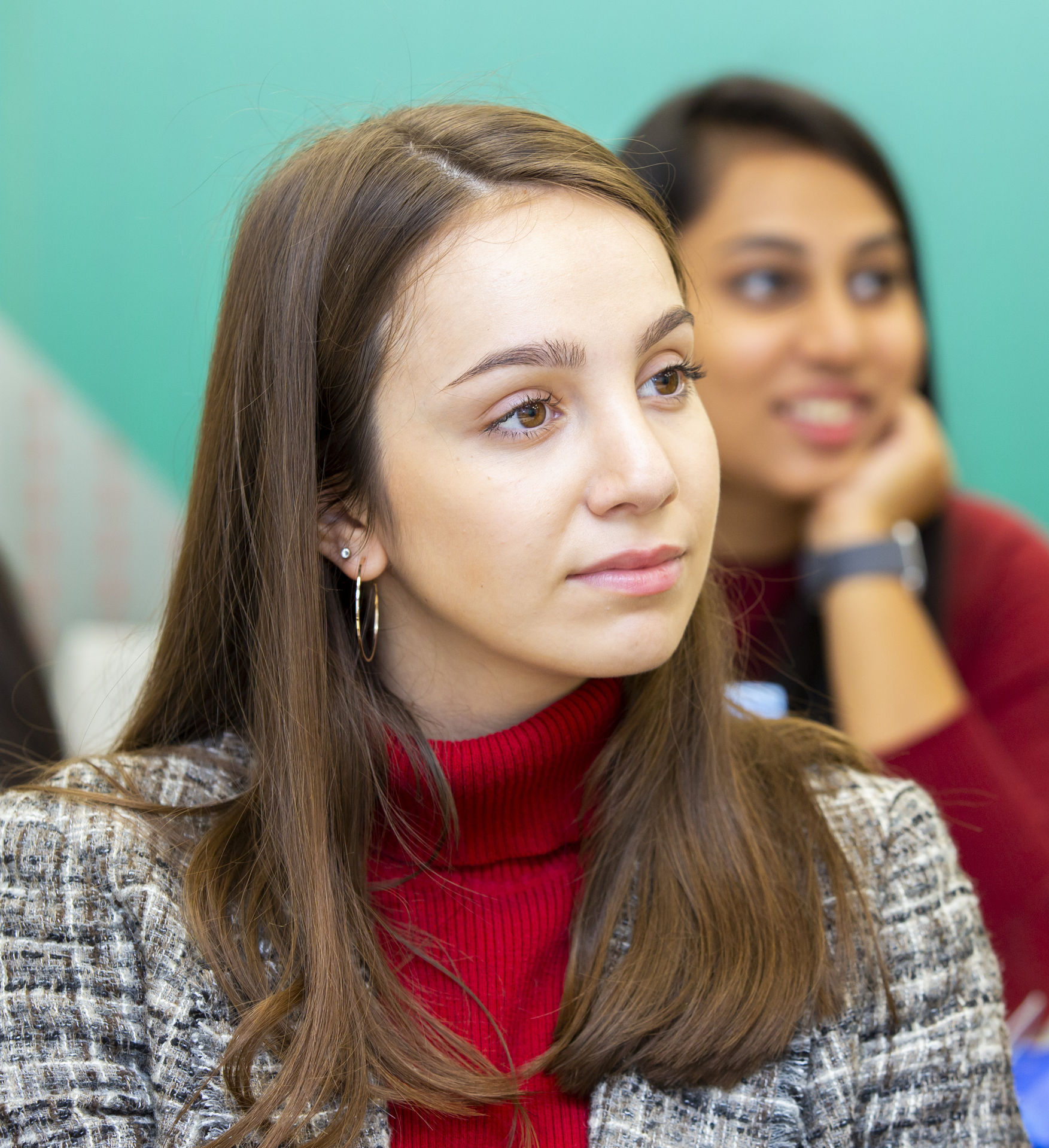 The Master of Business Administration (MBA) is a three-semester, one-year program (90 ECTS). Courses comprise formative and summative assessment as well as group work and presentations. Learning assessment methods include lectures, seminars, tutorials, case studies, group and individual projects, examinations and reports. The courses develop the learners' knowledge of theories, concepts, methods, practical skills and competencies of the primary and sub-fields of business.
Program Structure
Students are required to study four mandatory core courses in semester one and three mandatory courses in semester two. In addition, they select one elective in semester one and in semester two from the three MBA pathways offered at EU Munich (project management, cloud computing and information systems). Studies culminate in a dissertation which is undertaken in semester three. This dissertation allows learners to synthesize and apply their course learning outcomes in a specific area of business ensuring focused research which adds value to a cutting-edge field or subfield of business.
The Master of Business Administration (MBA) program has the following content:
Year1
Semester 1
(30 ECTS)
Choose one elective course from the list below:
Strategic Information Systems (elective)
Show details
This course looks at three fundamental questions:

• What information systems do businesses build?
• Why do businesses build these information systems?
• How does businesses approach build these information systems?

Through investigating these questions, students will gain an in-depth awareness of how the digital economy impacts and shapes the policies, structures and processes that define the digital firm. This course will provide participants with the necessary models, theories and frameworks that can be used to elaborate a firm's digital strategy and to realize this articulated strategy in terms of a coherent implementation program. As part of the implementation program, participants will obtain an understanding of the different phases and methods involved in information systems development.
10 ECTS
Project Management Frameworks (elective)
Show details
This course aims to develop the students understanding of the context of the project management environment, whilst developing specific skills in project management. The subject of project management is increasingly multi-disciplinary in nature and this course reflects this by providing you with an understanding of the social, organizational, behavioral and systems issues of project management. In addition to providing an understanding of the subject of project management the course will introduce several tools and techniques for managing activities throughout the project life cycle.
10 ECTS
Cloud Technologies for Business (elective)
Show details
The course aims to provide students with the key concepts of cloud technologies used in the modern business environment. Cloud computing technologies allows businesses to access their information virtually, creating a flexible and global way of accessing your data any place, any time. The course equips students to evaluate a set of practices that enable enterprises to profit from the use of cloud technologies and effectively manage the challenges associated with their use in an organization.
10 ECTS
Semester 2
(30 ECTS)
Applied Strategic Analysis
Show details
This course will provide the student with in-depth knowledge, skills, tools and frameworks necessary to critically appraise and respond to complex global, volatile and dynamic contexts in which organizations function today. The course will involve detailed evaluative studies in the nature of strategy content, and of strategic processes in a variety of industry and organizational settings. This course is designed to enhance the students' business research and problem-solving capabilities. The course develops students' analytical and evaluative skills in the field of strategic management. It allows students to build on the knowledge acquired in Semester one in courses such as Managerial financial analysis and Global issues for Management specifically.
10 ECTS
Dynamic Leadership Development
Show details
Leadership and motivation skills have become a crucial element of an effective manager's toolkit. This course will equip the student with the skills and insights they need to be an effective leader and motivator. It will provide students with a review of best practice leadership and motivational approaches and help them to develop self-awareness of their leadership preferences and behaviors, together with the skills to effectively lead others. They will be asked to identify appropriate leadership and motivational styles in a variety of contexts while focusing on optimizing job and organizational performance and to adopt a reflective approach to their own leadership development journey.
5 ECTS
Research Methods II
Show details
This course builds on principles and procedures covered in Research Methods in Semester 1 by applying them within an in-depth examination of the planning and management of a dissertation. The course develops the student's ability to produce an appropriate literature review relevant to the research aims, objectives and questions. An emphasis in this course is guiding students to effectively apply research methods to research questions whilst taking into account ethical considerations in preparing a research proposal. This course equips students with the requisite skills to plan, investigate, critique and present data using qualitative and quantitative research methods which underpin the independent research process.
5 ECTS
Choose one elective course from the list below:
Innovative and Disruptive Technologies (elective)
Show details
This course provides students with the key concepts of innovation and disruptive technologies that ensure businesses are fit for purpose in a digitally empowered world. In every industry, the introduction of innovative digital technologies and the rise of new disruptive opportunities or threats are transforming business models and processes. To stay competitive, companies must fundamentally change how they operate. This course equips students to evaluate new innovations and disruptive technologies that enable organizations to profit from technological developments and understand how companies can take advantage of various technological advances by changing business processes and offering new products and solutions.
10 ECTS
Project Management Practices (elective)
Show details
This course is primarily designed to build on students who already understands the complexity of the project environment. The course will develop that understanding to a deeper level across a broader spectrum of concepts to develop a level of knowledge and understanding so allowing the student to operate at a senior project level in any contemporary organization.
10 ECTS
Cloud Application Management (elective)
Show details
Students will gain a comprehensive insight into the management of cloud‐based technologies and applications to serve real organizational needs. They will develop critical skills in analyzing and evaluating the use of cloud applications in business and subsequently developing business solution-based applications. Students will also develop practical and hands on technical skills with relevant cloud services. Students will also gain insight into how digital project management practices are applied and realized in a cloud environment through the use of cloud-based planning and design applications, cloud-supported cooperative work, groupware and other tools in preparing their continuous assessments.
10 ECTS
Semester 3
(30 ECTS)
Dissertation
Show details
This course synthesizes learning in a dissertation. It comprises of research project or dissertation, consolidating students' research capability, theoretical knowledge and applied skills through the production of a dissertation. This should combine both research and technical skills to investigate, design, produce and evaluate the solution put forward. This involves researching a problem with significant implications for a chosen organization or industry, applying key concepts and techniques from business to deliver a solution, the construction of an artefact implementing the chosen solution, or the creation of new knowledge or add value to the business world with the critical evaluation and defense of the project outcomes.
30 ECTS
Learning Outcomes
This MBA program prepares students for future careers in global business. Upon successful completion of the program, learners will be able to:
Critically evaluate theory and practice from cross-functional areas of business in private, public and not for profit organizations, both nationally and internationally.
Demonstrate critical awareness of contemporary information, tools and techniques in management, policy and performance in organizations both nationally and internationally on business trends, drivers and inhibitors.
Demonstrate leadership skills to achieve individual, group and organizational goals.
Critically evaluate approaches to primary and secondary data and select the most suitable method from qualitative and quantitative research methodologies in the resolution of a specific business problem.
Formulate and apply strategic solutions in a business context for the resolution of specific business problems.
Critically appraise the advanced diagnostic tools which inform business decisions within the global business environment and wider society.
Demonstrate an ability for enhanced ethical judgements by demonstrating critical awareness of social, political, economic environments.
Exhibit an ability to work independently and collaboratively to build effective and efficient relationships in dynamic business environments.
Synthesize previous professional and learning experiences to inform a wide-ranging appreciation of the business world and solidarity with social norms and relationships.
Develop professional communication skills to present solutions in a cogent manner to a critical audience.
Conduct in-depth research in a specialized area of business administration to deal with a particular research problem that adds value or new knowledge to the business world.