BA - Bachelor of Arts in
Digital Business, Design
& Innovation


(título propio)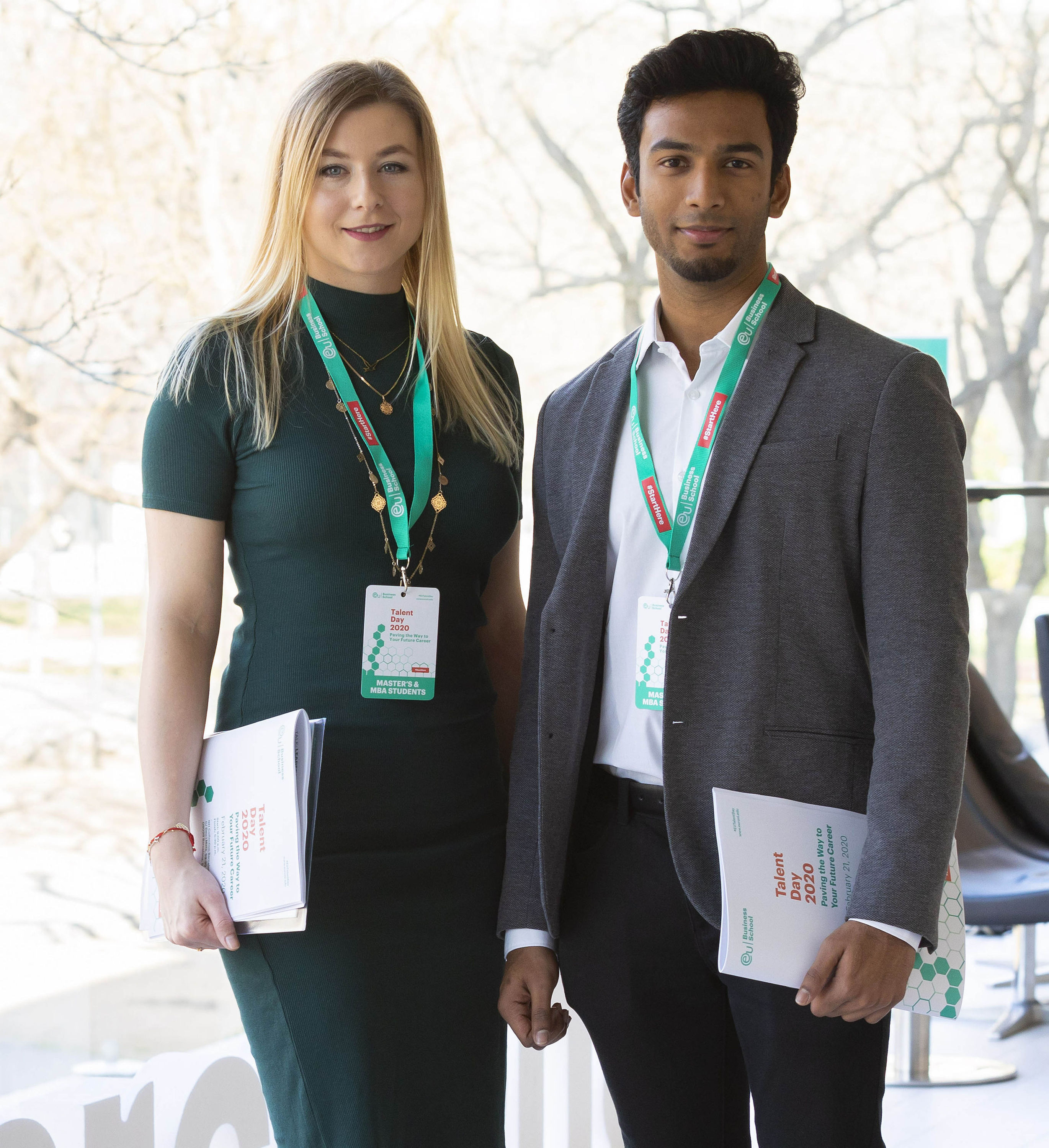 Upon the successful completion of any of EU's bachelor's degrees, graduates have a wide array of career options and business opportunities available to them. In response to the growing demand for flexible and entrepreneurial business professionals, EU's programs are designed to foster the skills required for a successful career in the international business arena.
EU's graduates possess an international mindset, multicultural awareness and are innovative thinkers. This makes them ideal candidates for positions at large, multinational companies and dynamic, disruptive entrepreneurs ready to start their own businesses.
Career Options
The Bachelor of Arts in Digital Business, Design & Innovation degree (título propio) provides students with business knowledge and specialist skills particularly in the digital area. Specialist subjects include digital leadership and digital transformation. Students who successfully complete this degree may be interested in the following job positions:
Product Transformation Officer
Product transformation officers are responsible for an organization's product and innovation strategy to ensure that it is optimal for the target audience. They will either devise new products or finetune or transform existing ones in order to satisfy current and future consumer needs profitably. Their tasks include creating product strategy, product design, market research and project management for new product development and its implementation.
The skills needed by a product transformation officer are leadership, consumer understanding, vision and data analysis as well as finance.
Digital Brand Manager
The duties of a digital brand manager include developing campaigns, creating and implementing an email marketing strategy, engaging users on social networks, promoting posts and writing copy, among many others. A digital brand manager is constantly evaluating results to ensure campaigns are optimal for lead generation and sales conversion.
A digital brand manager requires good analytical, research and creativity skills as well as knowledge of marketing.
Digital Transformation Manager
Digital transformation managers are in charge of reviewing existing processes, structures and roles within an organization and for optimizing them with digital solutions. These professionals will coordinate with current staff to ensure that all needs are covered with new systems and with IT to ensure feasibility. They will lead on the design, development and implementation of technological solutions. Change management tasks will also be undertaken by this professional to ensure project acceptance.
This professional should have good organizational, planning, project management and people management skills.
Business Analyst
Business analysts are responsible for solving problems that affect a company's performance and efficiency. Among other tasks, they are responsible for collecting data needed for decision-making, undertaking market research, recommending changes, implementation and quality control of the implemented system to enhance company efficiency. They will create IT solutions and will be involved in the design and modification of systems.
A business analyst will be required to have a business background and IT knowledge as well as good interpersonal and presentation skills.
Areas of Work
The Bachelor of Arts in Digital Business, Design & Innovation degree will provide students with specific skills needed to work across several sectors especially in the digital world together business knowledge across major business disciplines. Some sectors and professional fields which may be of professional interest for graduates of this degree are found below:
E-commerce, also known as electronic commerce, refers to the selling and purchasing of goods online. As opposed to physical stores, product display and transactions take place virtually. Ecommerce professionals are also charge of the monetary transactions which take place on the web as well as the product information displayed and the correct functioning of the site.
Media planning refers to the process by which an organization decides on the timing and outlets to use for advertising. Aligned with an organization's goals, decisions are based on the visibility, reach, engagement and reputation generated with the target audience as well as ROI, among other factors. The media planning department manages large budgets and will monitor results to determine the plan's effectiveness.
The role of change management is to minimize resistance to new projects within an organization. These may comprise changes in processes, procedures, roles and technology, among others. Change managers ensure that projects are implemented smoothly by effectively communicating project benefits and mitigating employee fears.
Information Technology (IT) is a sector which provides products or services related to facilitating communications and transmitting information between systems. It achieves this by using computers, hardware, software and telecommunications that keep data secure and networks in good standing.
Top Programs To Pursue After Your Bachelor's Degree