BA (Hons) in
Business Management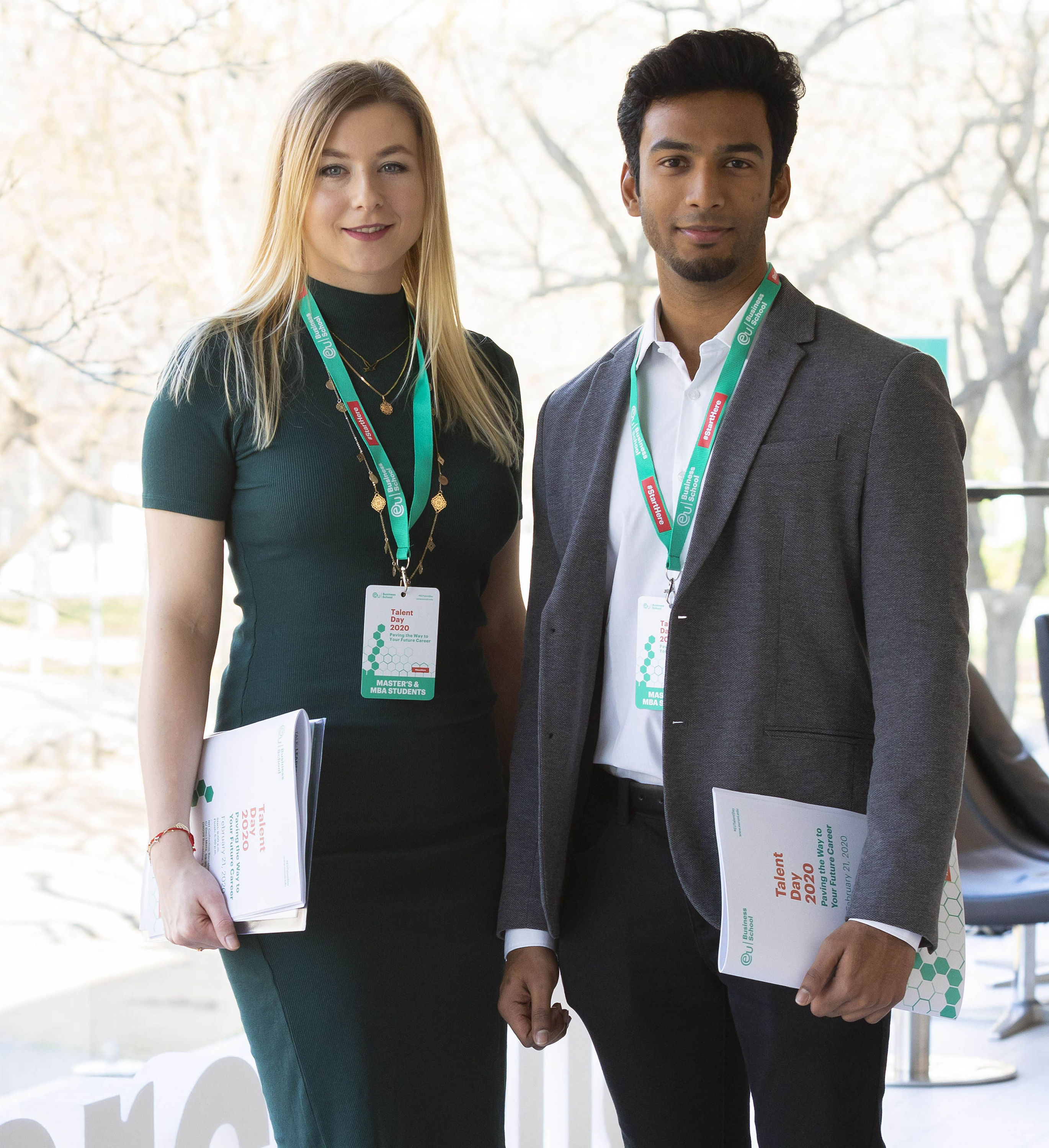 Upon the successful completion of any of EU's bachelor's degrees, graduates have a wide array of career options and business opportunities available to them. In response to the growing demand for flexible and entrepreneurial business professionals, EU's programs are designed to foster the skills required for a successful career in the international business arena.
EU's graduates possess an international mindset, multicultural awareness and are innovative thinkers. This makes them ideal candidates for positions at large, multinational companies and dynamic, disruptive entrepreneurs ready to start their own businesses.
Career Options
The BA (Hons) in Business Management degree provides students with a wide range of solid business and management skills. Students who successfully complete this degree may be interested in the following job positions:
Business Advisor
Business advisors provide information, support and guidance to businesspeople to help them fulfill their organization's objectives. Advice on ways to grow, diversify the business and adapt a product for market success are commonly requested. Business advisors will also offer support on performance enhancement through technology and management theory and help with change management. Their tasks will also include preparing reports to management after undertaking in-depth market analysis and competitor benchmarking. Understanding current trends and the marketers key for their role.
Key skills needed to become a business advisor include data analysis, reporting and presentation. Both knowledge of business and finance is important.
Project Manager
A project manager's job is to make sure that a project is completed on time and within a pre-defined budget. A résumé from a project manager will often highlight their ability to design schedules, budget, report and track on progress. These professionals will usually lead a multidisciplinary team and must coordinate and communicate well to ensure that each member knows their function and can complete a deliverable on time.
A project manager should have good organization and interpersonal skills. They should communicate and present confidently and be problem solvers.
Key Account Manager
Key account managers are in charge of the relationship and sales with a company's most important clients. Their goal is to maximize both the company's and client's sales. They will work closely with the client on sales projections and actions to increase sell-out and will define pricing strategies in line with the company and client needs. They will also liaise with other departments within the organization such as client services, supply chain and marketing to ensure that the client's goals are met.
Negotiation, interpersonal, business and communication skills are needed for this position.
Brand Manager
Brand managers are in charge of the marketing actions of a brand whose products may stretch across several markets. Brand managers will plan, create and implement strategic marketing campaigns for their product lines. Their duties include market research, promotional and advertising campaigns, budgeting, tracking sales and market share, among others. These professionals work within the marketing department reporting to a marketing director.
A brand manager will have analytical skills for market and competitor tracking, creativity to produce original ideas and good written and verbal communication skills for presenting and reporting.
Areas of Work
The BA (Hons) in Business Management degree prepares students for a wide range of functions across the business world. Some of the sectors and professional areas which may interest graduates of this degree are listed below:
A human resources department is in charge of recruiting, identifying talent, defining training needs and resolving disputes within an organization. It is also responsible for payroll and benefits. As the people department within an organization, they also must ensure a solid company culture and a good work environment for optimum performance.
Accountancy provides a wide variety of services such as bookkeeping, payroll processing, auditing and risk assessment. From small companies to Fortune 500s, professionals within this sector show where and when money was spent as well as how to spend. This department also looks for ways to cut costs and increase profitability.
Financial Services comprise organizations that manage money and offer financing opportunities to individuals and entities. They offer a wide variety of money and investment related services. Examples within this sector are consumer banks, investment banks, insurers, stock brokerages, real estate and credit card companies.
Supply chain management is responsible for the production and delivery of products in a timely and cost-effective manner to the client. Their tasks begin from production planning to final delivery to the client. A supply chain is triggered by a client order. This department typically collaborates with sales, operations and customer service departments to ensure that production and delivery lead times can be effectively fulfilled.
Top Programs to Pursue After Your Bachelor's Degree