We have put extensive measures in place across our campuses to ensure the health and safety of all our students, staff, faculty and stakeholders. We ask all persons entering our campus buildings to follow our official safety guidelines and the indications on signs throughout our buildings to keep our community safe.
Rigorous cleaning and disinfection. All facilities and rooms on campus have been thoroughly sterilized and are regularly disinfected and cleaned with viricidal and disinfectant products.
Regular hand sanitation. Use of hand sanitizer gel is obligatory. Dispensers are provided throughout the campus building. It is obligatory for everyone to disinfect their hands on arrival as well as before a class begins and after each break. Frequent hand washing is mandatory.
Ventilation is being increased across campus to keep the air free of pathogens.
Temperature checks will be conducted at our campus entrances.
Masks. It is mandatory for everyone to wear masks at all times when on campus.
Social distancing. Class sizes will be reduced and a safe distance will be maintained in classrooms. All persons must also maintain social distancing norms.
Elevators. The elevator is for accessing upper floors only; we recommend using the stairs. Elevator occupancy is limited.
Closure of common areas. Recreation areas, study rooms and libraries will be closed.
Safety screens have been installed in key areas.
Meetings with staff by appointment or virtually. We recommend meetings to be held virtually whenever possible. If necessary, students are asked to use Microsoft Bookings on Moodle to make appointments with staff on campus.
An English-speaking doctor is available for online consultation for students who are showing COVID-19 symptoms.
Health and Safety Recommendations for Individuals
We ask all individuals to be mindful of the health of our community by taking the following personal measures: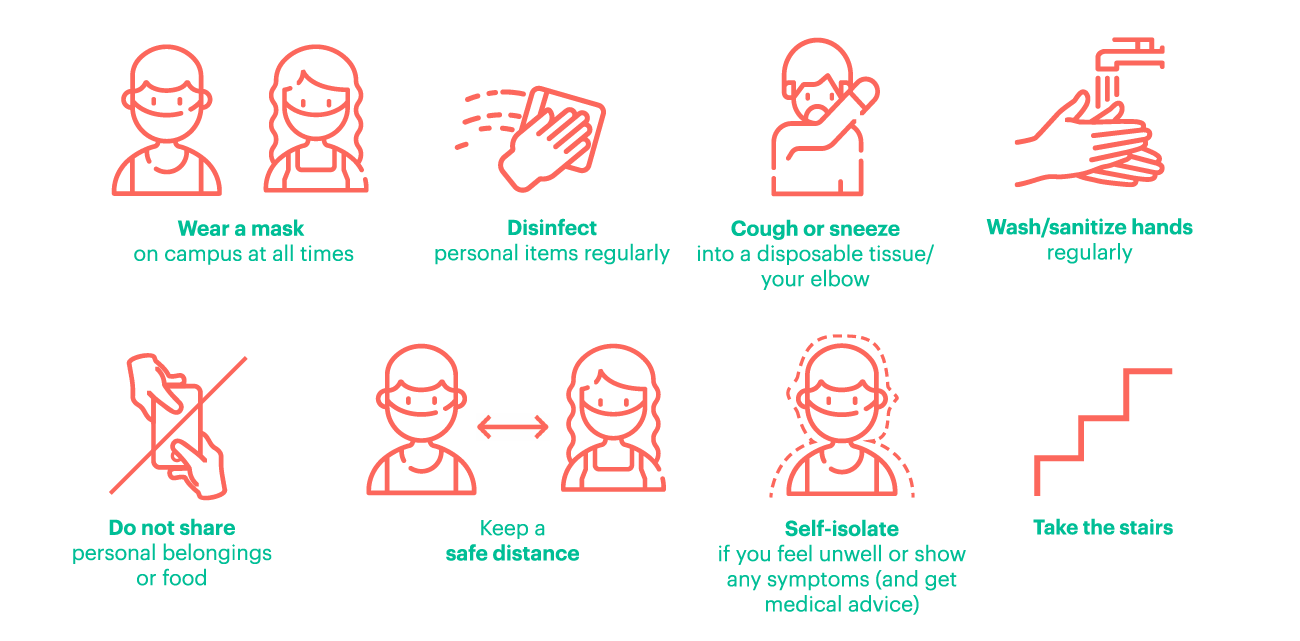 COVID-19 FAQs
Our world has changed, and EU Business School is ready. Whether you are joining the EU community or are already part of it, we are sure you'll have lots of questions.
Discover the frequently asked questions that we hope will help answer your queries. If there is anything else you need to know, please contact us or call our campus offices directly. We are here for you!